Introduction
I have written a few articles on various REITs in recent weeks, including Chartwell Retirement Residences (OTC:CWSRF) and Boardwalk REIT (OTCPK:BOWFF), and the Vanguard Real Estate ETF (VNQ) for those who would prefer an ETF versus cherry-picking of individual REITs. My main thesis is that most REITs provide a reasonably safe yield, as REITs utilize long-term contracts with tenants, which tends to make their distributions relatively stable. This is necessary to protect one's wealth due to potentially runaway inflation as a result of quantitative easing measures being taken by central banks through the global pandemic. REITs will also be beneficiaries of the quantitative easing in the near term with low interest rates and, therefore, low cost of debt, as they tend to utilize more leverage than most companies.
Most articles I have published have been on equity REITs, which is an intuitively easier business to understand, as those companies utilize a high degree of leverage and buy different properties and lease them out to the appropriate business that require their use. The ETF I want to discuss in this article does have many well-regarded equity REITs and has typically has 40-50% of its portfolio in these types of REITs. Mortgage REITs, or "mREITs," make up the other half or so of holdings in the ETF I want to discuss. mREITs invest in mortgages or mortgage-backed securities (MBS), making them real estate debt owners instead of property owners. Within the mREIT space, these entities tend to either focus on residential mortgages and mortgage-backed securities (RMBS) or commercial mortgages and mortgage-backed securities (CMBS).
This ETF I want to discuss is the Global X SuperDividend REIT ETF (SRET). SRET has a very simple strategy: it holds 30 high-dividend REITs with adequate liquidity. It has greater exposure to mREITs than most REIT ETFs, which often pay higher yields than equity REITs. Since 2008, investors have been sheepish to entertain these investments due to the calamity they caused in the financial system in 2008, and because of that, they have become a very undervalued asset class. Although 86% of holdings are in the U.S., it offers fairly good diversification, as no holding is more than 6% of total assets, and the top ten holdings by market value only represent 44% of total market value.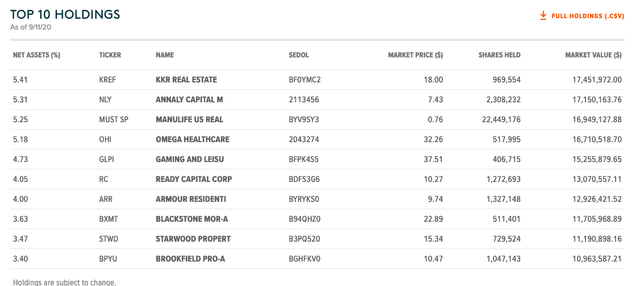 (Source: SRET Factsheet, December 2019)
Not only is the fund well-diversified by asset class, but it's diversified by many asset classes that are set to outperform over the next couple years, which was not as much the case pre-COVID-19, with hotel REITs representing 12% of holdings as of December 2019 and dropping to 3% now.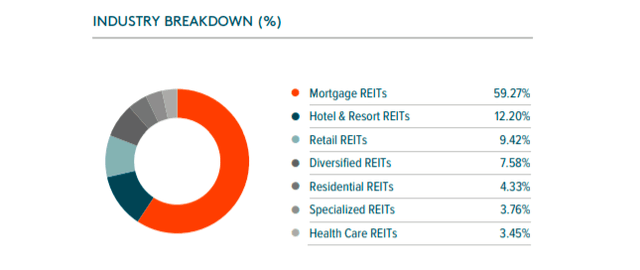 (Source: SRET Factsheet)
SRET's index methodology required that the fund divest itself from many of its worst-performing holdings many in the mREIT sector. The unfortunate reality with mREITs is that these assets can go from being stellar one quarter to being toxic waste the next. Their success or failure is determined by the success/failure of the underlying investments and management's skill with regard to hedging and employing leverage when necessary.
As a result of the volatility resulting from COVID-19, several mREITs received margin calls. Many were forced to sell assets at poor prices, and some even had their collateral repossessed and sold by the creditors. Many mREITs that suffered this fate are not even represented in SRET's holdings anymore. For this reason, the price and NAV fell more than 60% through March 2020 and have still only recovered ~30% since. The fund was forced to reallocate its holdings as a means to maintain a solid dividend yield, as it wouldn't have been much of a "dividend fund" with many of its holdings paying either meagre dividends or none at all. This is an unfortunate turn of events for investors in this ETF pre-COVID-19, but the reconstitution could provide an attractive entry point for new investors.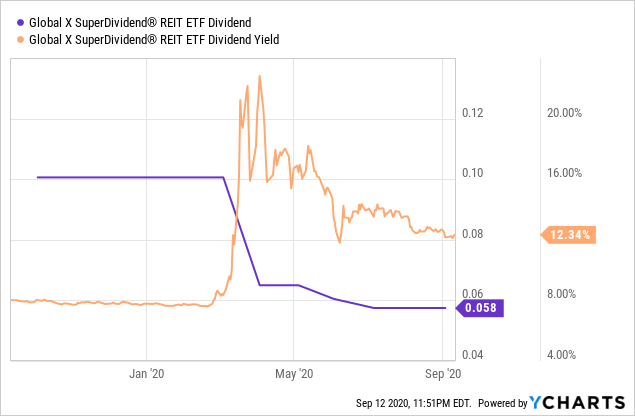 Fund Holdings
To my mind, Annaly Capital Management (NLY) is one of the most promising REITs in the mREIT space with a 12% yield, and it is one of the top holdings in SRET. NLY invests primarily in Agency MBS, which are pools of residential mortgages collateralized by residential mortgages that are guaranteed by government-sponsored enterprises (GSEs) such as Fannie Mae and Freddie Mac. Other small holdings within the ETF that primarily manage agency MBS are Arbor Realty Trust (ABR) and ARMOUR Residential REIT Inc. (ARR).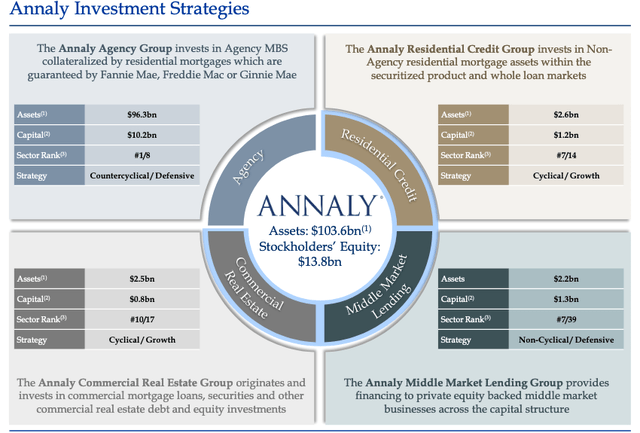 (Source: Residential Credit Presentation – September 2020)

(Source: Q2 2020 Investor Presentation)

(Source: ARMOUR RESIDENTIAL REIT, Inc. Company Update 9/11/2020)
Agency mREITs profit by borrowing short term with repurchase agreements which typically last under 90 days (therefore impacted by the Fed's target rate). The proceeds are used to buy agency MBS, which yield a premium over the 10-year treasury rate. Therefore, profitability is dictated almost entirely by the spread between the yield they obtain on these mortgages and the repo rates they borrow funds at.
Through COVID-19, these companies' stock prices have cratered despite the fact that the spread between short-term and long-term interest rates are higher than they have been in the last couple years. The reason many analysts suspect for the drop in price is the short-term drop in book value per share for these companies due to realized/unrealized hedging losses through their swap agreements. Why these companies enter into swap agreements is to reduce volatility in their borrowing costs as a result of short-term fluctuations in interest rates and still ensure a positive net interest margin. As short-term interest rates have dropped off so dramatically the past few months, these companies have had to realize major hedging losses as they receive the floating rate and pay the fixed on their swap contracts. This may seem counter-intuitive to what I just said about them benefiting from drops in short-term interest rates, but that will be the case going forward as they either choose to reduce the amount of principal hedged or maintain their hedges but roll over their swap contracts into lower fixed-rate swap agreements.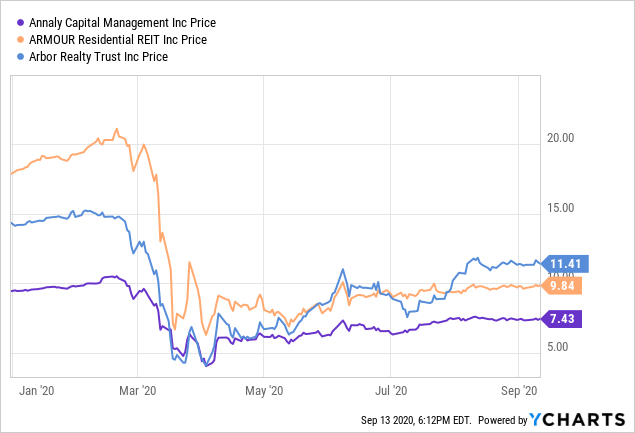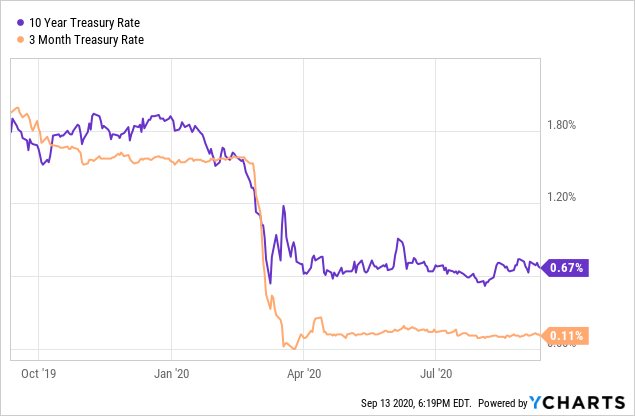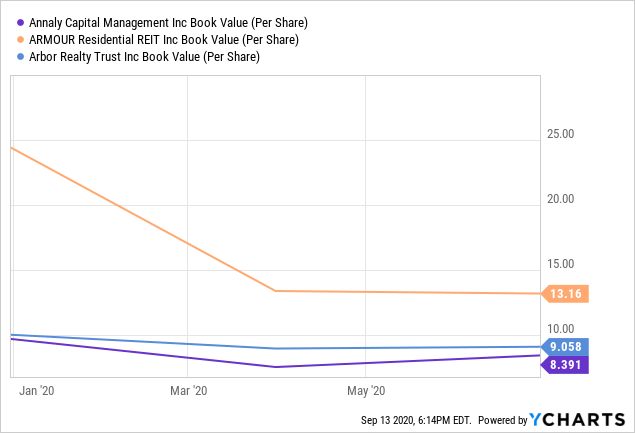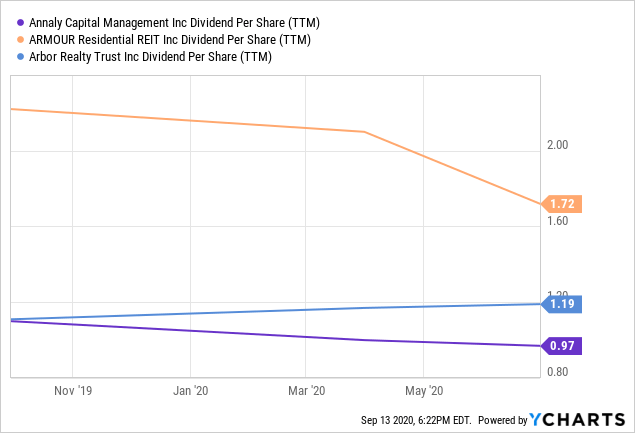 Agency mREITs may stand to benefit the most from the current economic climate relative to other mREITs and represent 12% of holdings in the ETF. All three of these companies have a 10%+ dividend yield, and have either kept their dividend payments the same through the pandemic or slashed them modestly.
The most well-represented asset classes at this time in the ETF are commercial mortgages that are not backed by GSEs. Larger holdings in SRET are KKR Real Estate Finance Trust (KREF), Ready Capital Corp. (RC), Blackstone Mortgage (BXMT), Starwood Property Trust (STWD), Apollo Commercial Real Estate Finance (ARI), Chimera Investment Corp. (CIM), and Ladder Capital Corp. (LADR). For most of these companies their primary asset class is first mortgage whole loans, but with some conduit (commercial mortgage-backed securities), mezzanine, and private equity financing.
Whole loans have been less impacted by margin calls through the pandemic, as the loans are not typically marked to market. Underlying mortgage defaults have been minimal through the pandemic, and therefore, covenants on these REITs' debt have not been triggered en masse. This is precisely why most of these companies have recovered a substantial portion of their lost market capitalization since their March 2020 highs (aside from BXMT). With most businesses currently open or in the process of reopening, mortgage defaults should be modest going forward as well. Most of the loans these companies own are floating-rate, which is why they tend to do better when interest rates are on a steady rise.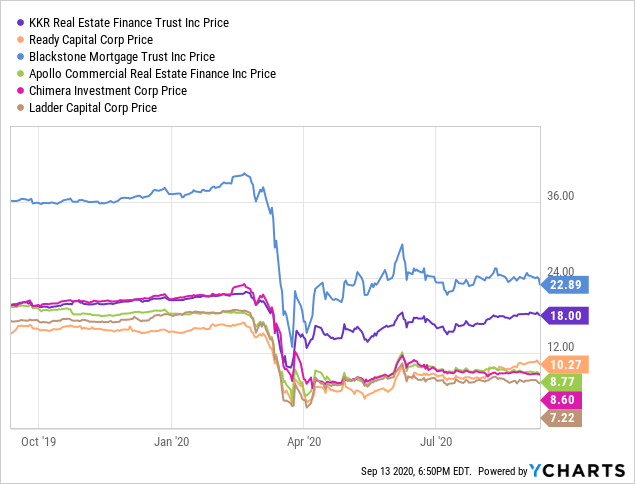 Most of these companies have also realized a drop in BVPS over the past couple of quarters with being forced to realize a high provision for credit loss.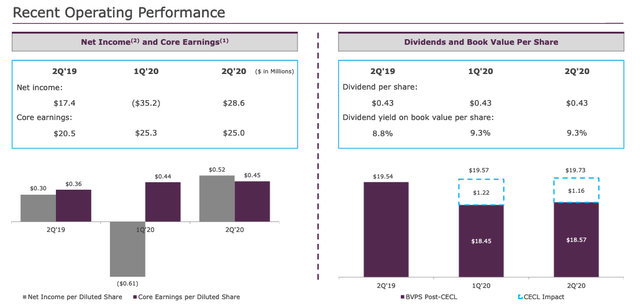 (Source: KKR Real Estate Finance Trust Inc.: 2ndQuarter 2020 Supplemental Information)
The ETF has other strong holdings. One is the Manulife U.S. Real Estate Trust (MUST SP), which is a pure-play office REIT listed on the Singapore stock exchange. Yes, you read that correctly, an office REIT, but this REIT has not only stayed afloat through the pandemic, it has actually "crushed it." As of Q2 2020, 6-month gross revenue had increased YoY from $83MM to $98MM and Net Property Income from $52MM to $62MM – increases of 18% and 19% respectively.
How is this possible, you ask?
In MUST's 2020 Q2 earnings report, Chief Executive Officer Jim Smith stated:
As the world continues its battle with COVID-19, MUST's fortified portfolio powered on, delivering a 20% YoY increase in distributable income to US$48.0 million for 1H 2020. Over this first half, we worked hard to sign ~217,300 sq ft of leases achieving a +7.9% rental reversion. Our 2020 refinancing was completed with a new loan at a lower interest rate of 1.85% p.a.and we obtained an additional US$50.0 million revolving credit facility to store up financial flexibility, bringing our total undrawn credit facilities to ~US$135 million. Rental collections remained strong averaging 96% for April, May and June. We are confident that MUST's portfolio is well-positioned to weather the on going economic turmoil anchored through its high occupancy of 96.2%, long WALE of 5.7 years, minimal expiries in 2020 and 2021, competitively positioned rents and a superior tenant base. As always, we are intent on protecting MUST's portfolio, preserving DPU and to that end, we are working with our tenants to emerge stronger together.
Other great holdings in the ETF are the healthcare REITs. I have argued before that healthcare REITs may be one of the most defensive sectors among all equity REIT classes. Healthcare is non-cyclical, as it is an essential need. In addition, demand is set to increase as the Baby Boomer generation ages. With all the advancements in healthcare, people tend to live much longer by getting treated for illnesses that were once thought incurable. Holdings in this space include Omega Healthcare Investors (OHI), NorthWest Healthcare Properties Real Estate Investment Trust (OTC:NWHUF), and National Health Investors (NHI).
These REITs grow primarily through sale and leasebacks, where they buy a property or properties from an operator and lease it back to them. For the operator, this is an attractive way to monetize value in their business, as it cashes out millions of dollars in value tied up in their properties for them to invest in growing their business. These REITs enjoy receiving rent over the course of the lease, plus any gains in the value of the real estate itself. For investors, this means stable cash flow to support dividends. Despite this, all three of these stocks are trading at their lowest valuations in years.
Data by YCharts
Conclusion
Although Price/NAV is 1:1, which seems like hardly anything to get excited about, I would argue many of the properties – most notably, the agency mREITs and healthcare stocks – are undervalued.
That being said, I would say expect steady returns in the near term holding this ETF, as you realize an 8% annual yield on your investment. Due to the ETF's high exposure to commercial whole loans which are based on floating rates, I would expect it will take at least a couple years before enormous gains are realized on this index. The ETF does pay a monthly dividend of $0.0575/share, which is a plus for income investors, and I don't foresee another dividend cut in the near term.
Disclosure: I am/we are long BOWFF, NLY. I wrote this article myself, and it expresses my own opinions. I am not receiving compensation for it (other than from Seeking Alpha). I have no business relationship with any company whose stock is mentioned in this article.