With the highest proportion of engineers and scientists per capita, Israel is arguably the most innovative country in the world. R&D spending as a percent of GDP in Israel is nearly twice the OECD average. Israel has more venture capital per inhabitant than any other country, according to Statista. In spite of the COVID-19 outbreak, venture fundraising was up year over year in Q2 2020, according to Israeli Tech Funding Report. A variety of policy incentives are highly favorable to early-stage startups. In an earlier article on Seeking Alpha, Harold Goldmeier and Sebastien Gandon both provided additional details on the innovative culture and robust venture capital ecosystem in Israel.
Foreign investors are an increasingly important driver in the country's venture capital ecosystem. Warren Buffett has called Israel the "most promising investment hub outside of the United States". One of China's top investors, Li Ka-shing has invested in more than 30 Israeli startups, according to the Financial Times. Baidu (BIDU), Tencent (TCEHY), and Alibaba (BABA) also have all made major investments in Israeli startups. The thawing of relations with Arab nations will likely increase capital flowing into Israel, ultimately increasing valuations.
COVID-19 cases recently ticked up in Israel, and the government recently announced another three-week lockdown. This is a short-term setback, but it doesn't impact the long-run case for investing in Israel. Moreover, by focusing on the technology sector, investors are primarily allocated in companies that are likely to benefit from pandemic-induced societal changes.
Although most US investors don't have access to the Israeli venture capital sector, there are many Israeli technology companies listed on the stock exchanges in Tel Aviv and New York. The BlueStar Israel Technology ETF (ITEQ) is a niche ETF that allows US investors to get exposure to this opportunity.
Portfolio
ITEQ follows an index of Israel-based technology companies listed on a variety of exchanges, including Tel Aviv, NASDAQ, NYSE, HKEX (Hong Kong), LSE (London), ASX (Australia), and Singapore (SGX). Approximately 70% of the portfolio is listed in Israel, 24% is listed in the US, and the remainder is spread across other countries.
Technology and healthcare are the largest sector allocations, at 63% and 12%, respectively. Within the technology sector, ITEQ focuses on cybersecurity, advanced hardware necessary for Big Data and analytics, autonomous driver assistance and safety, and biotech. It has also invested in agricultural technology and clean energy. The largest single holding, at 9% of the portfolio, is NASDAQ-listed clean energy company SolarEdge Technologies (SEDG). Notably, this company has also partnered with Tesla (TSLA). SEDG has continued to beat earnings expectations throughout the COVID-19 pandemic.
Several of ITEQ's largest holdings have been major beneficiaries of trends accelerated in the wake of COVID-19. For example, web platform Wix.com (WIX), which accounts for 8.5% of the total portfolio, has benefited immensely from the increase in e-commerce entrepreneurship around the world. NICE Ltd. (NICE) is a global enterprise software provider that helps businesses deliver personalized service to online customers, and provides financial fraud detection and compliance solutions. LivePerson (LPSN) develops AI-powered chatbots.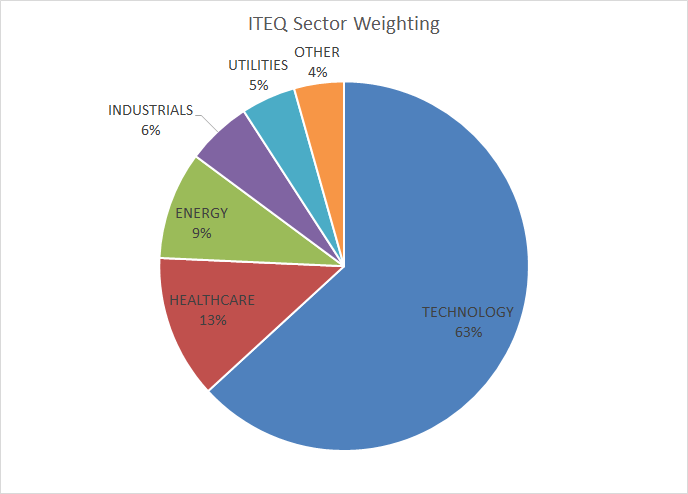 Performance
The focus on the high-growth technology, and ability to invest in Israeli companies listed on any exchange, has led ITEQ to much higher returns over the past five years than more broad-based ETFs such as the iShares MSCI Israel Capped ETF (EIS) and the VanEck Vectors Israel ETF (ISRA).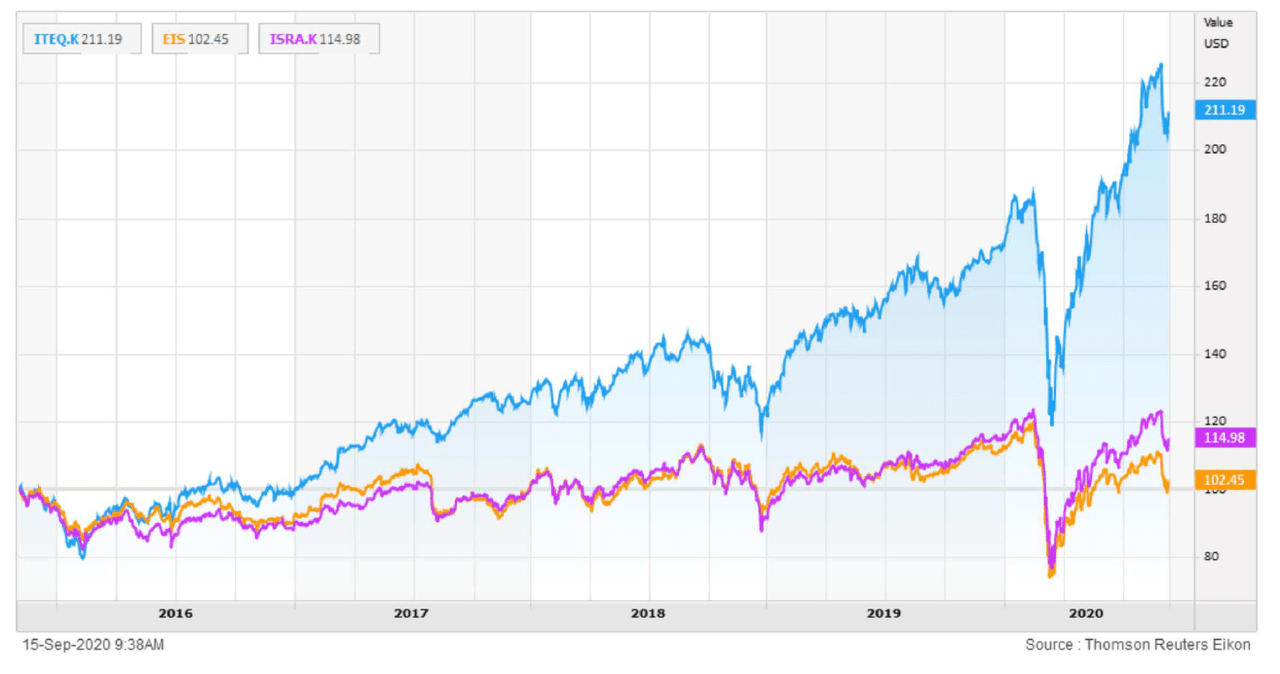 (Source: Thomson Reuters Eikon)
There is one other tech-focused Israel ETF: the ARK Israel Innovative Technology ETF (IZRL), which launched in 2018. Compared to ITEQ, IZRL has slightly less of its portfolio in technology and more in healthcare, telecom, and industrials. ITEQ has outperformed IZRL during this time, although it's too short of a time period to reach any solid conclusions.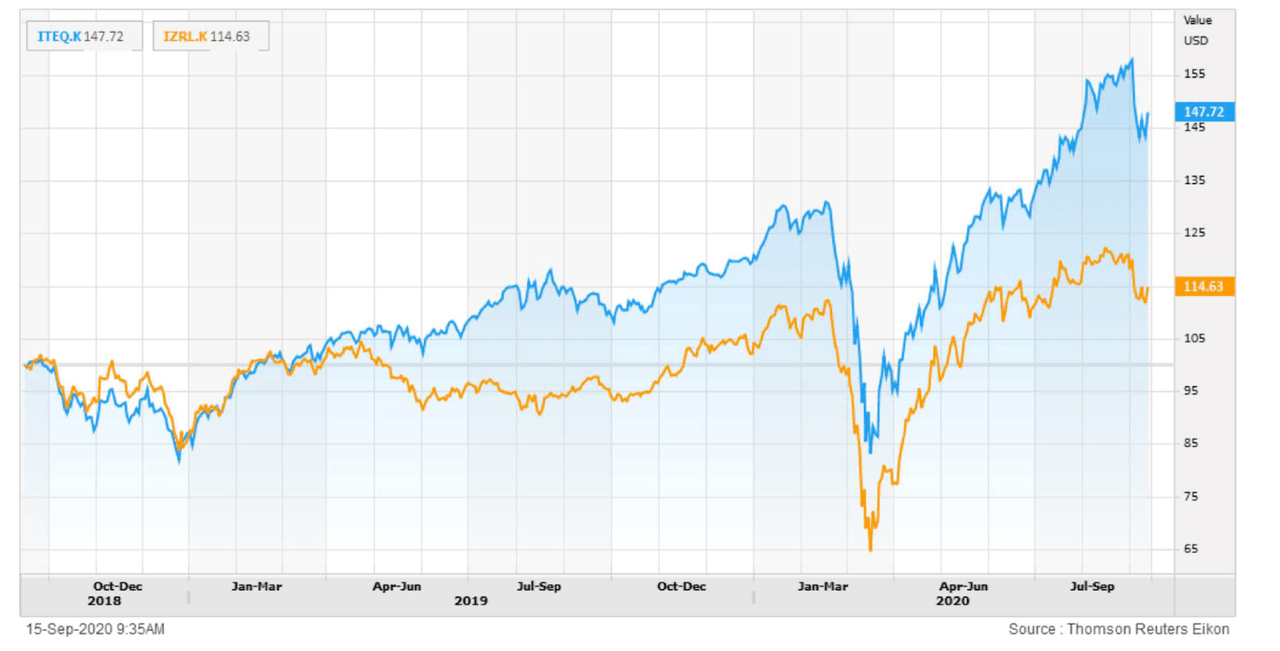 (Source: Thomson Reuters Eikon)
Foreign Policy Impact
Israel is in an unstable region, but recent geopolitical shifts bode well for its future. Israel has begun the process of normalizing relations with the United Arab Emirates and Bahrain. This deal, brokered by the Trump administration, reduces Israel's regional isolation, creating an alliance against Iran. Additionally, it will be a catalyst for further economic growth in the region.
Ofir Akunis, Israel's minister of regional cooperation, stated that this diplomatic thaw with the UAE and Bahrain will result in trade and investments reaching "billions of dollars for each side," according to the Financial Times. A large portion of this is likely to benefit companies in sectors that ITEQ targets. The UAE and Bahrain are especially eager to cooperate with Israeli companies that have expertise in water desalination, recycling and agricultural technology. UAE and Bahrain have expertise in land reclamation projects that will be beneficial to Israel. The two countries signed a deal to cooperate on artificial intelligence research. Emirates NBD, the largest bank by assets in Dubai, signed a memorandum of understanding with Bank Hapoalim in Israel to allow Israelis to transact directly with the UAE. This will result in additional capital flowing into Israel's technology and startup scenes.
Direct flights between Israel and the UAE and Bahrain have become available for the first time. The impact of direct flights will play out over many years as tourists and business travelers from each country build more cross-border relationships. COVID-19 might delay the impact, but it won't eliminate it. Notably, Saudi Arabia has granted permission for these flights to go over their airspace, possibly foreshadowing future diplomatic breakthroughs. Whether or not Trump is reelected, these benefits will remain.
If they can maintain peace, the benefits of greater economic ties with Arab nations will reverberate for many years after COVID-19 passes. ITEQ is a solid vehicle for US-based investors to participate in the high-growth Israeli technology sector during this historic time.
Disclosure: I/we have no positions in any stocks mentioned, and no plans to initiate any positions within the next 72 hours. I wrote this article myself, and it expresses my own opinions. I am not receiving compensation for it (other than from Seeking Alpha). I have no business relationship with any company whose stock is mentioned in this article.